where quilting is about more than keeping warm 🙂
Welcome to the central washington modern quilt guild (est. june 2020)
We are a small group of quilters from Central Washington who enjoy the delights of modern quilting.
We love to share our triumphs and tribulations in our crafting projects. 
We started a guild during the pandemic because we wanted to share our love of quilting with a broader audience.  Having virtual meetings and a pop-up quilt event gives us an opportunity to build community.
first steps into modern for a few of our members: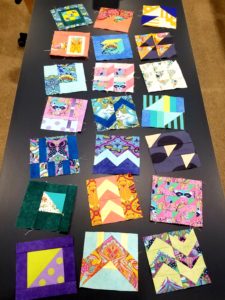 some info about how rad the community is.
How your donation is invested
monthly guild meetings – join us via zoom on the 2nd Thursday of every month
annual retreats held at the Crazy Quilter's Retreat Center in Lind, WA
annual quilt pop-up show May/June timeframe on the Apple Loop Trail in Wenatchee, WA
"Anyone who works on a quilt, who devotes her time, energy, creativity, and passion to that art, learns to value the work of her hands. And as any quilter will tell you, a quilter's quilting friends are some of the dearest, most generous, and most supportive people she knows."
Giving back to our Community
Annually we make a bed-sized auction quilt for a local charity, in our inaugural year we got to make for the Leavenworth Rotary and present that quilt to their President around Christmas 2020